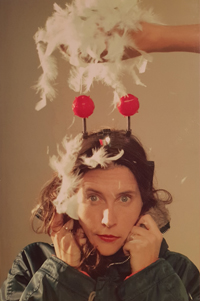 Gargoyle 55.
2009.
Sinopsis:
55th issue of an international literary magazine based in the Washington, D.C. area. This volume features a cover photo of the Irish poet Aoife Mannix taken by Andy Rumball, plus a batch of photos by Santa Fe-based photographer/artist Lisa Chun. The new issue features a posthumous story by DC writer David Veronese, and is also jam-packed with nonfiction about everything from Kurt Cobain to Cheeses.
Edición de Lucinda Ebersole.
Traducción de Toshiya Kamei
Autores: Sherman Alexie, Randall Brown, Chezia Thompson Cager, Sean Carman, Alex Cigale, Heather Lynne Davis, Barbara Westwood Diehl, George Drew, Moira Egan, Espido Freire …
………….
«The Wooden Monster«, por Espido Freire.
There is a garden. Beyond the window there is a garden.
Literatura, cuentos, traducciones
……….…